INNER WORKINGS
Of Poppets Past: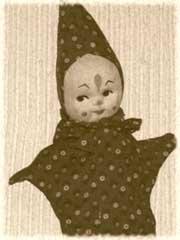 The pointed-hat, white-faced creature that evolved into the Little Red Poppet might have begun with fever dreams during a particularly bad bout with pneumonia when I was six. There is convincing evidence that this is true. There is a possibility it came from elsewhere, but the evidence is less convincing and the elsewhere much scarier.
The two-inch Poppet sculpture was originally to be the pawn in a toy-themed chess set. Not far into this project I decided it was the wrong time to make a chess set, possibly the wrong universe and that there were too many chess sets already.
But I liked the little pawn.
I recognized it.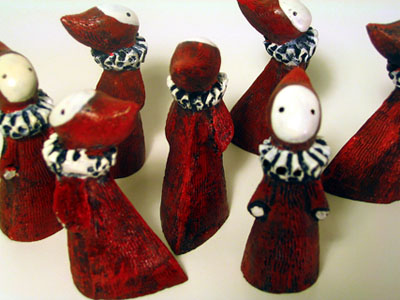 I made a few more by hand, as like the first as any could be. I began to like having them here and there, and occasionally would leave one with friends, who would call later, delighted. They're adorable...and sort of creepy. Mostly they said they were charmed and wanted more.
Alone, or in little groups here and there, Poppets invaded our spaces at home and in the studio. In time, I began to understand why I loved them, but couldn't yet express it. I needed to explore their world as I created it.
I began by trying to understand them.
I started to incorporate them into larger works. Lots of them.
They began to grow into a sort of language, I could string them together like some strange alphabet.
Of Poppets Present:
The Poppet Who Lives On My Desk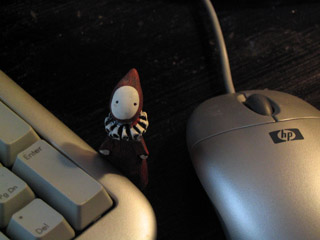 If I could effectively use narrative to convey what the Little Red Poppet represents, I wouldn't need the Poppet.
I'm pretty sure I couldn't lie to a Poppet. Having Poppets around makes me feel better. Watching the evening news is not the same as watching the evening news with a Poppet. Some people say Poppets are the sweetest creatures they've ever encountered. Some people say Poppets are the creepiest thing ever made.
The Poppet Who Lives On My Desk fits all the above.I know that Poppets are bigger inside than out. What can I do but go in?
Of Poppets To Come:
Possibly, when I've recorded the Nine Billion Names of Poppet, they will wink out and be no more. Or possibly they will evolve into something else.
I'm going to continue to do the work I love and watch what happens. That's what Poppet Planet is about. It's their world. I'm an explorer, but not alone. I'm in good company. -- Lisa